Linda was raised in  California, completed her MA degree at Central Washington University, studied with Cynthia Krieble and George Stillman.  
Painting is the language I use to explore my intuitive attraction to light, space and color.
For 20 years I worked in my studio surrounded by the Benicia industrial waterfront on the Carquinez Strait. That environment challenged me to move from the natural landscape to the urban landscape. My Arsenal, Cargo Ships and Industrial series evolved from living among diverse transport vehicles, bridges, long walkways and slanting rooftops. Subjects seen daily became my imagery, as shapes of light transformed immense ships, shadows filtered across structural planes, and light settled softly on buildings and distant hills.
The Yuba Site series began by observing the ruined architecture of the 1850s Yuba Factory in Benicia before its 2007 demolition. Shafts of light poured through decayed roofs to encompass detritus left behind by people who had repaired paddlewheel steamers, fabricated gold dredging machines and howitzer guns, until finally the space became artists' studios.
After completing my graduate work, I left the expansive horse country of Eastern WA and returned to the Bay Area in Northern CA where I began my Battle series using the horse as a personal and global subject. I appropriated Rubens and Delacroix artworks for their rhythmic compositions, and explored my process of handling paint alongside my reactions to historical subject matter. Concurrent to that series, I painted the natural Landscape in WA, OR and CA.
Although the subject of my artwork continues to change over time, the search for a connection between light/space/structure remains the same. After painting ambient light permeating space from a distant view, I'm recently working with direct light on small objects, in still lifes of toys. In this series called Play-Things, objects interact in humorous luminance, and at times their shadows have a strong physical presence. I'm looking forward to new possibilities after my most recent move to Mendocino County.
I work primarily with oil paint and monotype printmaking but also use encaustic, pastel, and watercolor. Each material's unique fluidity guides my exploratory process from subject to image; and painting in Series helps me to discover my intentions alongside formal concerns, looking in-depth at the many variations.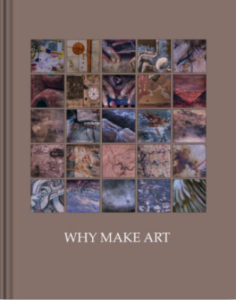 2015 – exhibit and book "Why Make Art, Twenty-Five Benicia Artists Respond"
Desuyo project: Artists respond to the question "Why Make Art?" alongside their artwork and portraits by photographer Hedi. B. Desuyo
Book available at blurb.com/b/6215873-why-make-art

2016 Sonoma State University Art Gallery, Rohnert Park CA
2012 Public Health Clinic, Solano County Public Art, Vacaville CA
2012 Santa Rosa Junior College, The Doyle Collection, Santa Rosa CA
2010 Solano County Events Center, Solano County Public Art, Fairfield CA
2010 Kaiser Permanente Vallejo Hospital Art Collection, Vallejo CA
2009 City of Richmond Art Collection, Richmond CA
2008 Benicia Historical Museum, Silas Casey Building, Benicia CA
Your capturing of light always amazes me. I feel like I can tell the time of day; the stillness or wind in the air. There's something about it that frees my senses and my imagination.
–– Barbara Intersimone CA
She takes what would be the most mundane topic or detail and turns it into this rich visual experience.
–– Anne Toxey, Toxey/McMillan Design Associates TX
Poetic and almost audible landscapes draw the viewer in, as the late afternoon light softens the grit and rust.
–– Dolby Chadwick Gallery CA
Since moving to the Benicia Arsenal 19 years ago, Grebmeier has interpreted the industrial environment surrounding her studio in striking paintings and prints suffused with golden light and deep shadows, profoundly expressive of her connection to the area. Her use of unexpected vantage points results in atmospheric, light-filled images bordering on abstraction.
–– Kathryn Weller-Renfrow CA
Benicia's Arsenal may appear to casual visitors to be a jumble of buildings, some forlorn, others restored. But Benicia artist Linda Grebmeier knows how to transform them with heightened color and geometric form in the golden light of a setting sun.
–– Robert Taylor, Contra Costa Times CA